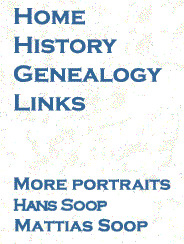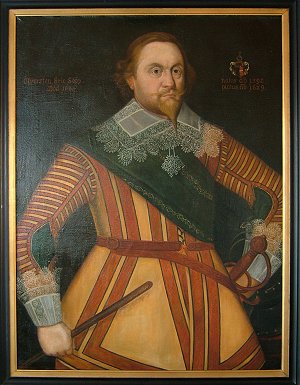 Portrait from Gripsholm castle

Colonel Erik Soop of Stora Bjurum, 1592-1632. Married Anna Posse in 1622 ; the marriage did not leave issue. As head of the Westgothian Cavalry, he was noted in Livland (1621), in the battle of Wahlhof (Kurland) 1626, in the battle of Dirschau (Danzig) 1627, as well as in the 30-year war (1630-31), where, according to the legend, he saved the life of King Gustav II Adolph. Shortly after his return he perished in "field sickness" and was buried with his spouse in the Cathedral of Skara, where they were honoured by a magnificent sepulchral monument in the southern nave.
Baron Gustaf Soop of Limingo, Stora Bjurum, Mälsåker, Stjärnsund, etc., 1623-1679, Governor General in the service of Queen Hedvig Eleonora. He married Baroness Margareta Horn in 1658. He built Mälsåker castle in Södermanland, finished in 1670 with Nikodemus Tessin the First as architect. He was buried in the rural parish church of Askersund.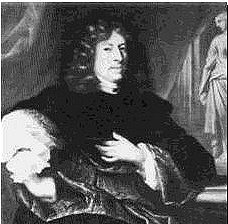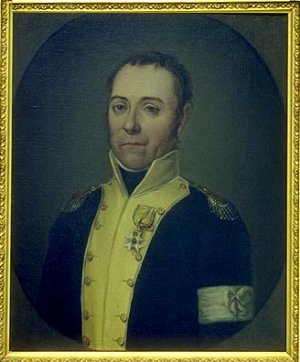 Portrait from Stralsund

Major and Knight Gustaf Soop of Stora Bjurum, 1763-1832. As officer of the Skaraborg regiment he participated in campaigns in Bohuslän in 1788, in Finland in 1789-90, and in Northern Germany in 1805-06. He married Baroness Beata Sophia Lagerfeldt in 1802. He was buried in Jerstorp church, Jönköping county.
Hussar Åke Eriksson Soop. One narrates on his life as follows:


"Åke Soop, son of Erik Jöransson Soop, born 1754 at Hästhalla, made his way abroad at age 16 and first became sergeant, then under-lieutenant in the Prussian regiment Sabel at Andam, where he served during 6 years, but escaped therefrom due to duelling and subordination felonies; returned to Sweden, where he sold and squandered his legacy. He thereafter had himself enlisted as hussar 1795 in the Lifhusare Corps, wherefrom he was transferred as a soldier to the Queen Dowager household regiment in 1796, all under the name of Åke Preutz; however, for having slain the artillerist Johan Smittman in 1797 in an inebriated state with a hay-fork, was condemned by His Majesty to 28 days in prison on bread and water, ecclesiastic obligation, and prison for life in the Waxholm Bastion. He there died in 1812. In 1779 he married Hedvig Christina Wahlberg of common family, dead 1783. He had two children, Erik Fredrik et Carl Erik, both expired in their first year."